School started two weeks ago and we both are really enjoying our classes. One of my favorite times so far this semester was my first day in my foundations of child development class. After the professor handed out slips of paper with ages and characteristics of our age we were then asked to be that age (I was five). We spent the first half hour of class playing with toys and having story time. Dallin is excited about an application that he has submitted for a LEED Construction competition. If he is accepted he will be traveling to either Reno or Orlando to compete with a few other classmates. As for me I am hoping to graduate by December of '08 at which point I have no idea what I will do. I would still love to do something in Child Psychology, but I am also starting to lean towards teaching pre-school or Kindergarten.
This Friday Dallin got a new toy. He called me on his way home from work with a "I love you and I hope you are in a good mood" attitude. He shyly asked if we could just go "look" at a truck that was for sell in IF. I complied with no expectations. He told me that it was a 1980 Ford F150 and was in a tow trucks lot because the DUI owner wouldn't pay the storing fees and now the tow truck man owned it and was selling it for cheap. I about laughed at that. A 1980?!?!? Are you kidding me. It's 7 years older than I am. To my surprise however we pulled up and I quickly found the charm. It runs great and the heat works (which is good since the high was 50 degrees today). We bough it for $500 and now that is all Dallin can think and talk about. The best thing is that I won't have to walk home from work now because Dallin will be able to take the truck...or Mater which we named the truck after the movie "CARS".
We have also finally gotten around to decorating our apartment, a little.
Now, let me talk to you about Fantasy Football. Dallin and I are a team on the "Sauser League". My main request was to have Tony Romo from the Cowboys be our main QB, which of course they all got a laugh out of. However, today we didn't play him and the QB that we did put in got us negative points and of course we lost the game. Dallin and I quickly realized that we had made a mistake putting in our back up QB and we will end 3rd week with a 3rd loss. O, well.
I got a new calling in church last week. I am now the RS music coordanator.
We went to my old roommates wedding this weekend also and I was able to get some pictures with my new hair so let me know what you think.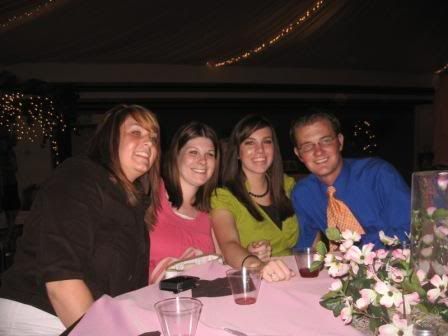 I think that is all for now. We both got new cell phone numbers:
Dallin-208-357-6493 Courtney-208-357-6494
We love you all!
Quote: "I find that if I pray not only to have a witness of the truthfulness of the scriptures but also to have the Spirit with me as I read, my sensitivity is heightened, and I see ever so much more clearly. I can see where I am in my life and where my Heavenly Father wants me to be. I can understand principles of truth, and I can see how to make the needed changes in my life. I can feel assured that the Lord will help and strengthen me to accomplish the task. Thus the scriptures become written in my life."When we read the scriptures we are hearing the voice of the Savior. He is not absent from our lives. He is actively positioned in the verses of these holy books."
(Cheryl C. Lant, "My Soul Delighteth in the Scriptures," Ensign, Nov. 2005, 77)