Some of my favorite memories as a kid is the times when my family and I would go camping with my extended family in the Utah mountains and the "men folk" would go hunting. The cousins would all get togther and have sleep overs in each others tents or campers and put on plays. Hunting is something that my dad continues to do at least once a year. This year he took my little brother Brady and they had a great time. This was Brady's first hunt and he also got his first deer. He shot a 9 point buck that wighed about 180 lbs. the morning they were leaving. My dad let him use his 30-06. My dad shot a 6 point deer, but after they tried tracking it for two hours they weren't able to find it. He was using his 243 (a smaller gun) and says that he needs to get better if he is going to let his son use the larger gun in the future.
Here is a picture of my brother with his first deer.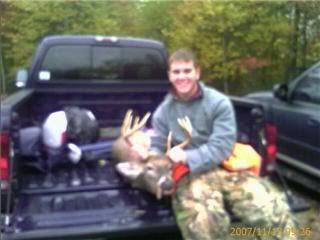 I'm curious to see if they will be able to talk my mom into mounting it on the wall.