So I am finally getting on here to put up some updates! Sorry it has taken so long!!
Dallin and I drove down to SLC on October 20th to go to the BYU vs Eastern Washington game. We met up with Dallin's twin sister Karen and her husband Taylor as well as a few of my old roommates. The game was a slaughter and I think we ended up beating them 42-7 (or close to it). It was a freezing cold day. It started off rainy and not very fun, but soon the sun came out and it was beautiful. As the game progressed, however, the snow started to fall. It was so much fun. Here are some pictures that I took. Oh, it was also Dallin and I's 6 month anniversary...We made it!
This is before the snow...


And during the snow.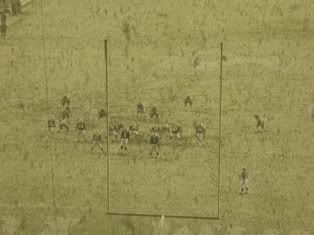 This is Karen and Taylor...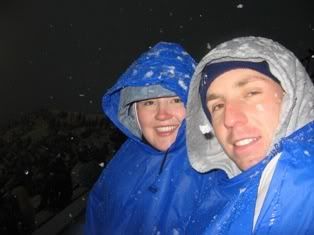 And Dallin and I.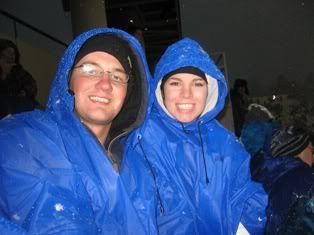 I also cut Dallin's hair (after many days of convincing) and I think it turned out pretty good!



This was our first Halloween together as a married couple. We made pumpkins and I cooked pumpkin seeds. We also had spaghetti, the claiborne family traditional Halloween meal!
Dallins picture is of the grim reaper and mine is a ghost with the word BOO at the bottom.



Things have been going well for us. Dallin is going to Reno in February to compete in the LEED competition. He has been doing great in school as usual. We have also switched our tracks for school so that next Fall we will both be able to do our internships for school, which we are leaning towards going to Minnesota for.
We can't wait to head home to Florida for Christmas in 37 days where we will spend 3 weeks.
We have also decided to move our records over to the home ward in our town, so that we are no longer attending our family ward. We have attend this ward a couple times and really enjoy it.
The weather here has been great so far, which it grrrrreat for me since I have Florida skin, and great for Dallin since he works outside everyday building houses. It hasn't snowed since the first week of October and gets into the low 50 almost everyday.
I just found out that my brother Austin broke his collar bone. He did it in the first quarter of his last football game. He will be down for about 6 weeks and probably won't be able to play in the next sport season (whatever one it may be), so keep him in your prayers.
Well I think that is all for now. We love you all and hope all is well.

Quote:
"Just as a fish in a mountain stream must be careful of the luresplaced in its path to avoid being pulled away from the water, so must youand I be wise in order to avoid being pulled away from a happy,gospel-centered life. Remember that, as Lehi observed, the devil'seeketh that all men might be miserable like unto himself' andobtains 'power to captivate' (2 Nephi 2:27, 29) us when we involveourselves in unclean and evil things. Thus, do not be deceived into evennibbling at unworthy things, for Satan stands ready to set the hook. It wasthe very real risk of the hook being set subtly or suddenly that let theancient prophet Moroni--who actually saw our day (see Mormon8:35)--to pointedly warn you and me to 'touch not the evilgift, nor the unclean thing' (Moroni 10:30). "There is muchthat is evil and unclean in music, the Internet, movies, magazines, and inalcohol, drugs, and tobacco. As to any evil and unclean thing, my youngfriends, do not even touch it!"
-Marcus B. Nash, "The Great Plan of Happiness," Ensign, Nov. 2006, 49-50