I love him...
1. He wakes up every morning and starts and scrapes my car for me. He has been doing this since before we were dating, I had a 7am class 4 days a week and when I would head out to my car it was already ready for me. I have really learned to appreciated this since he has been gone the last couple days and I have had to do it myself.
2. He almost always lets me have the remote.
3. He can't wait to finish school so that he can get a job that will support his family without making me work.
4. He can always make me laugh.
5. He never complains.
6. He finds enjoyment in my happiness.
7. He is great with children!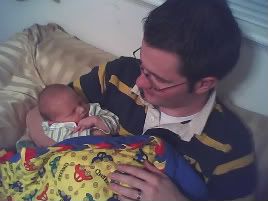 (This is Dallin with 2 week old Porter, our best friends new little boy, he can't get enough of him when we are around them)
8. He loves the gospel.
9. He lets me complain when I need someone to just listen.
10. He loves me and doesn't let a day go by where he doesn't tell me so.