So I am finally going to follow up on my last birthday post. My parents got me a
beautiful
picture of the Savior for my birthday and I wanted to post a picture of it.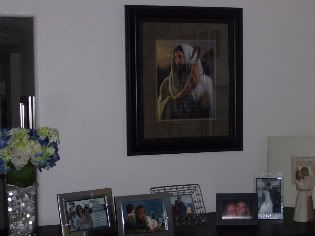 Dallins
birthday was this month on the 3rd. He had a great time!
He
received
a lot of money and gift cards from family and had a great time shopping for himself. The first thing that he decided to buy was a
charcoal
grill. Here is a picture of him making some steaks for our dinner, they were so good! And can I just say that this was one of my favorite presents that he picked out, because he now makes dinner 3 times a week just to use his new toy.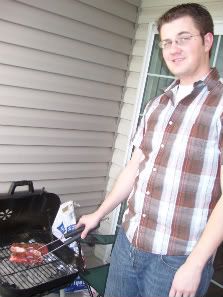 He also bought, the newest season of the office, 2 new drills, a large car jack and my all time favorite, a new vacuum. He was walking around the store with some money left in his pocket and couldn't think of what else to buy and he knew that I had been asking for a new vacuum for the last year or so, so he bought me a new one. Isn't he the best husband ever!!
My parents also got him a really funny card!