So I have been trying to talk myself into getting more post up here, but it just seems like a daunting task. However, now that I have a little bit more energy again I feel that I need to do something. Even if I have a hard time getting out of bed I can type, right? So here is a very late post!!
Dallin and I finally graduated from college at the end of July '09. My parents came up to celebrate with us and join us in the different ceremonies.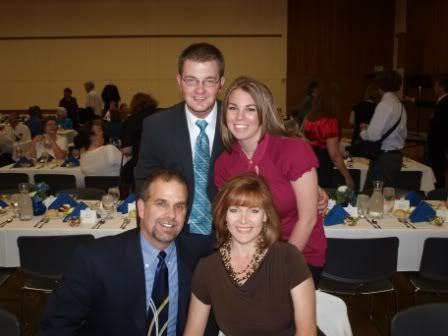 We both worked really hard to get to this point and are still trying to figure out why since we have had no luck in the job field, but we both feel that it was the right thing to do. "For members of the Church, education is not merely a good idea—it's a commandment" -President Dieter F. Uchtdorf. And so needless to say we believe that by following the commandments we will be blessed!
Now that the times of late nights of studying, hard tests, group projects, and falling on the icy sidewalks are done...we miss it!! However, walking across the stage and receiving our "diplomas" was a time I think neither of us will ever forget. We will always be proud of ourselves and be able to tell our children and grandchildren of the time we graduated college. We feel blessed that we were able to receive the education that we did, through our families sacrifices, but mainly though our own hard work and money we were able to do it!!